In a startling variety of ways, contemporary artists are exploring the relationship that our species has to its planet. We have aggregated some of this very intriguing work below. If you have suggestions for works to add to the gallery, please contact us.
Works can also be viewed in portfolio view.
2014-15 Curator: Julia Olson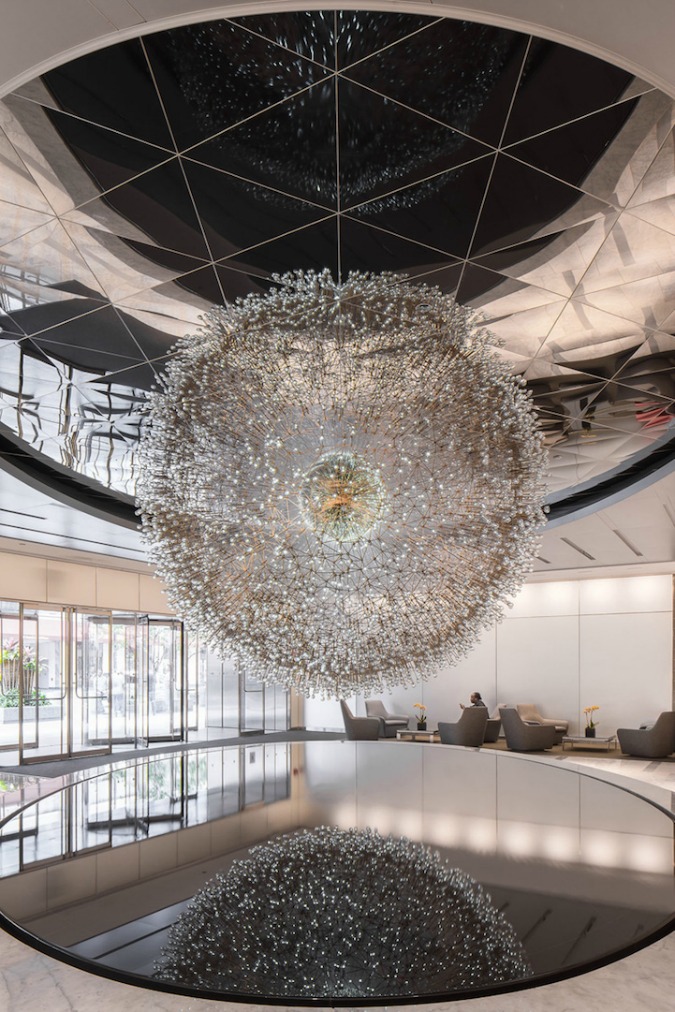 Artist Wolf Buttress has created a sculptural installation that looks like a giant dandelion wafting in the breeze. Titled Lucent, this larger-than-life orb is suspended above a darkened, reflecting pool that mirrors the brilliant illuminated tips, doubling its stunning presence. The installation's name, derived from the Latin "to shine," and its 3,115 hand-blown glass spheres represent stars on a map that are visible to the naked eye from the Northern hemisphere. To fully realize this sublime, suspended sculpture, Buttress affixed fiber optic cables to each orb, producing the piece's diffused glow. Additionally, he ensured its spatial accuracy by working with astrophysicist Dr. Daniel Bayliss of Australian National University. Buttress also uses the reflective aspect of the piece as more than a visually appealing element, it is a conceptually integral part of Lucent. Its mirroring on the water suggests the Southern hemisphere, and implies a sense of infinity at the same time. (source).
http://ehc.english.ucsb.edu/wp-content/uploads/2016/02/WolfgangButtress5edit.jpg
1012
675
Kiana Fatemi
http://ehc.english.ucsb.edu/wp-content/uploads/2015/05/ehi4.png
Kiana Fatemi
2016-02-26 15:31:37
2018-05-02 16:21:39